Needs of the Heart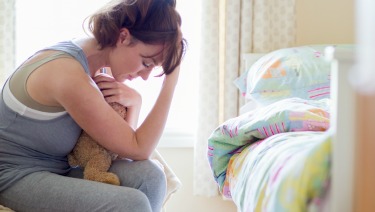 Through Social Workers in Colorado's hospitals, Jessie's Heart provides financial support to those needing assistance with transportation, lodging, food, daycare, and other unexpected expenses. We believe that by reducing the family's financial burdens, parents can focus on the care and wellbeing of their child.  
We support the multidisciplinary collaboration of Social Workers, Child Life Specialists, Pediatric Psychologists, and Chaplains in the support of CHD families.
Desires of the Heart
We fulfill dreams for cardiac children. Working with the hospital's care team, we learn about the children's wishes and gift them through Jessie's Heart's Desires of the Heart program.  
Jessie's Heart captures the stories of families whose kids have been diagnosed with heart conditions. A personal book is designed for them that displays family pictures and stories of their emotional journey.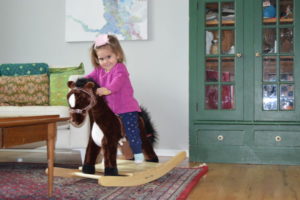 16-month-old Rowan was born with 4 heart defects.
She has already undergone three open heart surgeries, with the first one on her third day of life. She received a bi-ventricular repair in 2017 and is now living at a normal oxygenation. Her conduit will need to be replaced as she grows and will be under a lifetime of medical surveillance.
Rowan's parents are happy to share that she lives a normal and very happy life now as a sassy little lady. Her absolute favorite animal is a horse, and she loves the rocking horse gifted by Jessie's Heart
Letters to Sammy
Sammy's story began before she was born. The doctors noticed a narrowing of the left ventricle of her heart. She was born at 35 weeks, and as she was getting ready to go home for the first time, the echocardiogram showed her heart had become severely enlarged She has left ventricular hypertrophic cardiomyopathy, a condition in which the heart muscle becomes abnormally thick. Her parents were told Sammy would need a heart transplant. That was the only fix. Miraculously, seven weeks later they got the call. Sammy underwent her first heart transplant before she was 2 months old. Although her life was filled with doctor's appointments, she was able to experience everything a healthy child does – she walked, talked, went to school, played sports, and had many friends. Then, at the end of her junior year in high school, Sammy's heart once again gave out. This time, she waited only five days, before she was given the gift of life. Sammy finished high school, enrolled in Community College, and started her first job. She also decided she wanted to share her story and become an active volunteer and spokesperson for the American Heart Association. On February 27, 2016, at the age of 23, Sammy lost her battle with heart disease. We honor and remember Sammy for her infectious spirit, positive attitude, bravery, and advocacy for those battling heart disease.
A Story from the Heart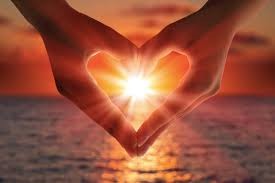 I remember walking through the doors of Children's Hospital, with an overwhelming sense of peace. I knew that we were in the right place to take care of our girl.
On October 20, 2017 little Miss Madison Brooke Speakman entered the world with as much sass as you would expect to come from a Speakman girl. She had her first open heart surgery a week later and we had our fair share of ups and downs. A round of ECMO because of septic shock, a couple of blood clots in
her neck and more than a handful of swelling issues. Some would call it a roller coaster, I'd call it skydiving without a parachute. After 41 days of fighting, our little Madi B lost her battle with CHD.
Without the help of foundations like Jessie's Heart or the amazing people
who make up The Heart Institute Wellness Program our journey would be far more difficult.
I remember feeling ashamed about our financial situation and afraid to ask for help because I didn't want to be judged. I remember our case worker Melissa telling me that she's seen a situation like ours cripple a six-figure bank account and that there's nothing wrong with asking for help. I broke down in her hospital room on the last few days of her life, asking how I was going to bury my baby with $33 in the bank account. We were given gas cards and financial support, not to mention the shoulders to cry on.
We have been supported continuously; some people think that the hospital support stops the minute you walk out those doors and that's far from the truth. The bereavement program has been an integral part of our grieving process and I love that we are still thought of even though we're not patients anymore. Through the bereavement program and their 6-week grief group, I have met some of the most amazing bereaved parents. Even though our group ended, we still meet every month and are going on a cruise together in January. It is because of the hospital that we are able to grieve with grace.
On behalf of my family and future families, thank you for donating to Jessie's Heart. Without your donations, families like mine would not be able to focus their efforts on their children.
-Heather Speakman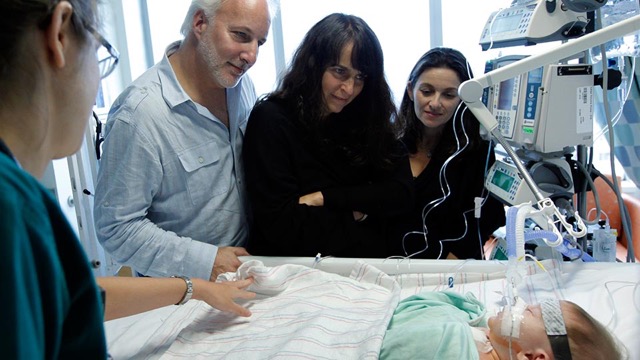 It is hard to put into words how much Jessie's Heart financial generosity means to our families at Children's Hospital Colorado.
Our families tell us that they never thought they would need to come to the Heart Institute with their child and never could have imagined that their child would be diagnosed with a cardiac defect. We meet our families when they are in extreme shock, disbelief, and completely devastated. Their lives are immediately turned around and while they are processing their child's illness, they need to figure out how life is going to work.
Our families are not only figuring out how they are going to sit in the CICU with their child in heart failure, while they speak to providers to complete a transplant evaluation, but they are trying to figure out how they are going to pay for gas to return home to see their other children. They are trying to figure out how they can pay for rent, when they have missed weeks of work and are on unpaid leave. They are trying to figure out how they will afford meals in the cafeteria every day. They are trying to figure out how they will pay for food, lodging and transportation, to travel to their child's multiple clinic visits.
It is hard to describe the look on a parents' face when we tell them that we are able to relieve some of this financial burden for them.
We are so fortunate that we can provide family with this relief. When we are able to offer a gas card, meal vouchers, plane tickets and hotel rooms, our families immediately feel a burden lifted from their shoulders. They express their gratitude to us on a daily basis. One family told me that this financial assistance is "like an angel on our shoulder during our family tragedy."
– Amy Stevens, Social Worker